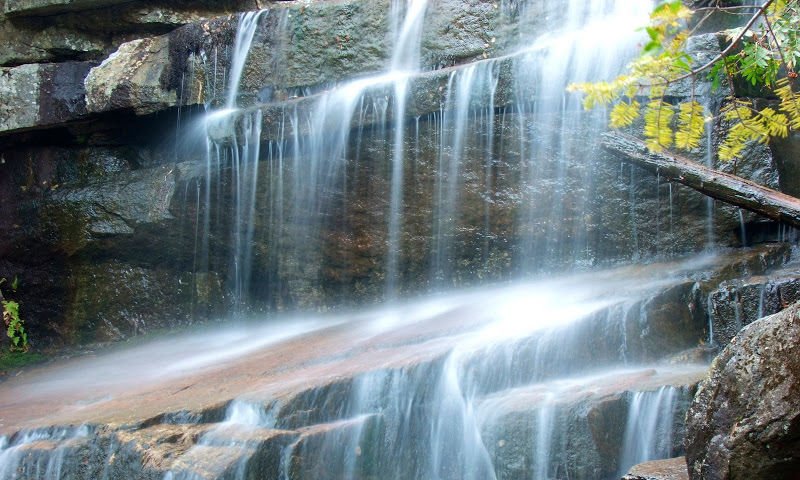 Champney Falls
Trail


Champney Falls Trail is 27.6 miles from Old Saco Inn. This trail in the White Mountain National Forest is well-marked and rated easy to more difficult, running 2.8 miles, making it a good half-day trek through snowy woods and up a gentle incline, gaining 520 feet. Your reward is the stark winter view of the cascades and waterfalls. This is an out-and-back ungroomed route; allow time to gape at the frozen falls.
Echo Lake
trail


Echo Lake Rd is 21.1 miles from Old Saco Inn. It's a flat one-mile loop along the edge of the frozen lake, but don't let that fool you. Rated easiest, with minimal elevation you will come upon striking views of Mount Kearsage North and its climbing ledges, White Horse and Cathedral, where rock climbers revel in summer. What you will see is ice climbers doing their scary thing on those ledges. You'll encounter walkers and their dogs, now and then a slow-moving snowmobile, but if the pond ice is solid you can also snowshoe directly along the perimeter. The trail is ungroomed but usually packed.
peaked mtn
trail
Peaked Mountain Trail is located 16 miles from Old Saco Inn. This relatively short 4.2 mile loop lies close off Route 16 just south of North Conway and is a good choice to combine an easy to more difficult outing with views of the lofty mountain peaks and deep snowy valleys. You will climb gradually 1,100 feet to the bare summit of Peaked Mountain, where on a clear day you'll be able to see Mount Washington, Middle Mountain, Black Cap and Cranmore. Many trails cross each other in this area and lead to the major peaks. Ungroomed surface.